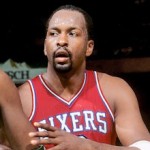 March 23, 1955 Moses Eugene Malone, hall of fame basketball player, was born in Petersburg, Virginia.
In 1974, Malone was drafted by the Utah Stars of the American Basketball Association right out of high school, becoming the fifth player to jump straight from high school to the professional leagues.
When the ABA merged with the National Basketball Association, Malone eventually ended up with the Houston Rockets. Over his 19 season career in the NBA, Malone was an eleven-time All-Star and three-time Most Valuable Player. He retired in 1995 and was inducted into the Naismith Memorial Basketball Hall of Fame in 2001.