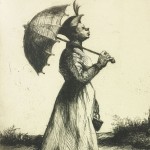 March 22, 1892 Dox Thrash, painter and printmaker, was born in Griffen, Georgia.
In 1911, Thrash moved to Chicago, Illinois to study at the Art Institute of Chicago.
In 1917, he joined the United States Army and 14 months later was gassed and wounded while serving in France. After being discharged, he returned to the Art Institute where he studied until 1923. In 1926, Thrash moved to Philadelphia, Pennsylvania where he worked for the Fine Print Workshop division of the Federal Arts Project. While there, he developed the carborundum printmaking process, the use of carborundum to etch copper plates instead of other etching techniques. After this, Thrash expanded his imagery to reflect the social evolution of African Americans during the first half of the 20th century.
Although he was a well known artist by the 1940s, when he applied for a job at the Philadelphia Navy Yard as an insignia painter, he was turned down because as he says "the job was not available for a member of my race." Thrash remained a prominent artist in Philadelphia until his death on April 19, 1965. In 2002, the Philadelphia Museum of Art presented a major retrospective of his work, featuring over 100 drawings, watercolors, and prints.
In catalog of Dox Thrash's works, John Ittmann reignites Dox's approach to African American culture. Drawn from public and private collections, the book features a number of prints Thrash executed using the carborundum process. The selection also demonstrates his mastery of various other methods of printmaking in black and white and color, such as etching, aquatint, lithography, linoleum cut, as well as his accomplishments as a draughtsman and watercolorist. The works document the range of Thrash's compelling imagery, including scenes from his childhood in the rural south; hard times in the urban north in the 1930s; patriotic war work of the early 1940s; and poetic portraits of his community and its residents.