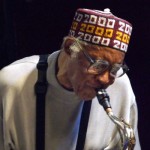 March 22, 1929 Fred Anderson, jazz tenor saxophonist, was born in Monroe, Louisiana.
Anderson taught himself to play the saxophone as a teenager and moved with his family to Evanston, Illinois in the 1940s.
In 1965, he was one of the founders of the Association for the Advancement of Creative Musicians which was a collective devoted to nurturing composers and players of modern music. Anderson opened a succession of important Chicago nightclubs, including the 1983 ownership of the Velvet Lounge which became a center for the city's jazz and experimental music scene.
Although he was an active performer, Anderson recorded little during the 1980s. He resumed recording as a leader in the 1990s with albums such as "Live at the Velvet Lounge" (1998), "From the River to the Ocean" (2007), and "Staying in the Game" (2009). Anderson died June 24, 2010.