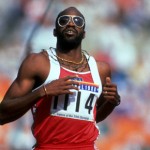 August 31, 1955 Edwin Corley Moses, former track and field athlete, was born in Dayton, Ohio.
Moses attended Morehouse College on an academic scholarship and earned his B. S. degree in 1976. While at Morehouse, Moses essentially trained himself. Between 1977 and 1987, Moses won 122 consecutive 400 meter hurdles races. He won Gold Medals at the 1976 Montreal and the 1984 Los Angeles Olympic Games.
At the 1988 Seoul Olympic Games he won the Bronze Medal and retired soon after. In 1981, Moses led the establishment of an Athletes Trust Fund program to allow athletes to benefit from government or privately supplied stipends, direct payments, and commercial endorsement money without jeopardizing their Olympic eligibility. That fund is the basis for the U. S. Olympic Committee's Direct Athlete Assistance Program. Moses was the 1980 Track & Field News Athlete of the Year and the next year he was the first recipient of USA Track & Field's Jesse Owen Award.
In 1983, he received the James E. Sullivan Award as outstanding amateur athlete in the United States. In 1984, he was co-winner of Sports Illustrated's Sportsman of the Year Award. Also in 1984, the city of Dayton renamed a street Edwin C. Moses Boulevard. In 1994, Moses earned an Master's of Business Administration degree and was inducted into the National Track and Field Hall of Fame. In 2000, he was elected the first Chairman of the Laureus World Sports Academy, an international organization of world class athletes seeking "to promote and increase participation in sports at every level, and also to promote the use of sports as a tool for social change around the world".