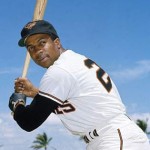 August 31, 1935 Frank Robinson, Hall of Fame baseball player, was born in Beaumont, Texas.
In his rookie year, 1956, he tied the record of 38 home runs by a rookie and was named the National League Rookie of the Year. Over his 21 season career, Robinson was a 14-time All-Star, a 1958 Gold Glove Award winner, and he is the only player to win the league Most Valuable Player award in both the American and National Leagues.
In 1966, he was awarded the Hickok Belt as the top professional athlete of the year in any sport. In 1975, the Cleveland Indians named Robinson the manager of their team, making him the first Black manager in the Major Leagues. Robinson also managed the San Francisco Giants, the Montreal Expos, and the Baltimore Orioles, where in 1989 he won the American League Manager of the Year Award.
In 1982, Robinson was inducted into the Baseball Hall of Fame, in 2003 the Cincinnati Reds dedicated a bronze statue of him at their ballpark, and in 2005 he was awarded the Presidential Medal of Freedom by President George W. Bush. Robinson's autobiography, "My Life is Baseball" was published in 1968.