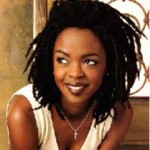 May 25, 1975 Lauryn Noel Hill, recording artist, musician, producer, and actress, was born in South Orange, New Jersey.
Hill began her acting career at a young age, appearing in the television soap opera "As the World Turns." In 1993, she co-starred in "Sister Act 2: Back in the Habit" and other films in which she has appeared include "King of the Hill" (1993), "Hav Plenty" (1998), and "Restaurant" (1998).
In 1994, Hill joined the group Fugees and they released their debut album, "Blunted on Reality," which sold over 2 million copies. Their only other album, "The Score" (1996), won the Grammy Award for Best Rap Album and contained the single "Killing Me Softly," which won the Grammy Award for Best R&B Vocal Performance by a Duo or Group.
The Fugees disbanded in 1997 and in 1998 Hill released "The Miseducation of Lauryn Hill" which was nominated for ten Grammy Awards and won five, making her the first woman to win five Grammys in one night. Since then Hill has been largely out of the public eye except for the 2002 release of "MTV Unplugged No. 2.0."