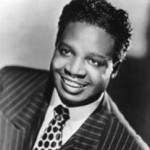 May 25, 1981 Roy James Brown, pioneering R&B singer, songwriter, and musician, died.
Brown was born September 10, 1925 in New Orleans, Louisiana. He started singing gospel music in the church choir. In 1947, he wrote and recorded "Good Rocking Tonight" which was a hit, reaching number 13 on the Billboard R&B charts. That song was subsequently covered by such rock and roll stars as Elvis Presley, Ricky Nelson, Jerry Lee Lewis, and Pat Boone.
Other hits by Brown include "Long About Midnight" (1948), "Rockin' at Midnight" (1948), "Hard Luck Blues" (1950), and "Let the Four Winds Blow" (1957). Brown's vocal style influenced B. B. King, Bobby Bland, Jackie Wilson, and Little Richard. Brown was posthumously inducted into the Blues Hall of Fame in 1981.