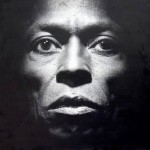 May 26, 1926 Miles Dewey Davis III, jazz trumpeter, bandleader, and composer, was born in Alton, Illinois.
By the age of 16, Davis was a member of the musical society and playing professionally. In 1944, he moved to New York City to study at the Juilliard School of Music. In 1945, he entered a recording studio for the first of many times during this period as a sideman. From 1945 to 1948, Davis was a member of the Charlie Parker Quintet.
In the late 1940s, Davis began to lead his own ensembles and over the years was at the forefront of several major developments in jazz music with recordings that include "Birth of the Cool" (1949 & 1950), "Kind of Blue" (1959), "Sketches of Spain" (1960), "Bitches Brew" (1969), "Tutu" (1986), and "Amandla" (1989). His album "Kind of Blue" has sold more than 4 million copies. Davis won nine Grammy Awards, including the Grammy Lifetime Achievement Award in 1990.
Davis was inducted into the Down Beat Jazz Hall of Fame in 1962 and was designated a NEA Jazz Master by the National Endowment for the Arts in 1984. He died September 28, 1991 and was posthumously inducted into the Rock and Roll Hall of Fame in 2006. Biographies of Davis include "Milestones: The Music and Times of Miles Davis" (1989) and "Miles: The Autobiography" (1989).
---