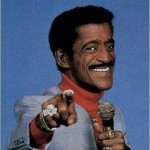 May 16, 1990 Sammy Davis, Jr., singer, dancer, film, and stage actor, died.
Davis was born December 8, 1925 in New York City. He began performing almost as soon as he could walk as part of the vaudeville Mastin Troupe. After serving in the army, in 1955 Davis recorded his first album, "Starring Sammy Davis, Jr." In 1957, he appeared in the Broadway musical "Mr. Wonderful" and in 1959 "Porgy and Bess." By the 1960s, he was recognized as a certified entertainment superstar.
In 1966, he appeared in the film "A Man Called Adam" and in 1969 "Sweet Charity." His recording of "The Candy Man" in 1972 was a number one hit. In 1968, Davis was awarded the Spingarn Medal by the NAACP and in 1987 he received the Kennedy Center Honors. In 1990, Davis won the Emmy Award for Outstanding Variety, Music or Comedy Special for "Sammy Davis, Jr.'s 60th Anniversary Celebration." In 2001, Davis was posthumously awarded a Grammy Lifetime Achievement Award and in 2008 he was inducted into the International Civil Rights Walk of Fame.
His 1962 recording "What Kind of Fool Am I?" was inducted into the Grammy Hall of Fame in 2002 as a recording of "qualitative or historical significance." Davis published three autobiographies: "Yes, I Can" (1965), "Why Me?" (1980), and "Sammy" (2000). Also, several biographies have been written about him, including "In Black and White: The Life of Sammy Davis, Jr." (2003), "Sammy Davis, Jr.: Me and My Shadow" (2003), and "Deconstructing Sammy" (2008).
---