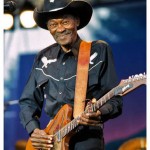 September 10, 2005 Clarence "Gatemouth" Brown, blues musician, died. Brown was born April 18, 1924 in Vinton, Louisiana. He began his professional career in 1945 and had his recording debut in 1949 with "Mary is Fine" and "My Time is Expensive".
During the 1960s, Brown made several appearances on the television show "Hee Haw" and beginning in 1971 toured Europe 12 times, including several tours sponsored by the United States State Department.
In 1982, Brown won the Grammy Award for Best Traditional Blues Album from "Alright Again!". In 1997, Brown was honored with the Rhythm and Blues Foundation Pioneer Award and in 1999 he was inducted into the Blues Hall of Fame.