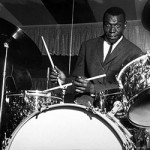 September 9, 1927 Elvin Ray Jones, jazz drummer, was born in Pontiac, Michigan. By the age of two, Jones had a fascination with drums and in high school he joined the marching band. Jones served in the United States Army from 1946 to 1949 and after his discharge began his professional career.
Jones moved to New York in 1955 and recorded with several groups, including Miles Davis on "Blue Moods" (1955) and "Sketches of Spain" (1959). From 1960 to 1966, Jones was a member of the John Coltrane quartet and appeared on a number of albums, including "My Favorite Things" (1960) and "A Love Supreme" (1964).
After leaving Coltrane, Jones led a number of small groups recording a number of albums, including "Puttin' It Together" (1968), "Live at The Lighthouse" (1972), "Love and Peace" (1982), and "The Truth" (1999). In 2003, Jones was named a National Endowment for the Arts Jazz Master, the nation's highest honor in jazz.
Jones taught regularly, often took part in clinics, played in schools, and gave free concerts in prisons. His lessons emphasized music history as well as drumming techniques. Jones died May 18, 2004.