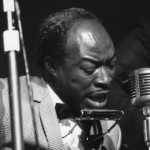 September 6, 1925 Mathis James "Jimmy" Reed, blues musician and songwriter, was born in Dunleith, Mississippi.
After spending several years performing in Mississippi, Reed moved to Chicago in 1943.
By the 1950s, Reed had established himself as a popular performer and from the mid-1950s to the early 1960s he had a string of hits, including "Ain't That Lovin' You Baby" (1956), "Honest I Do" (1957), and "Baby What You Want Me to Do" (1960). His recordings of "Big Boss Man" (1961) and "Bright Lights, Big City" (1961) are included on the Rock and Roll Hall of Fame's 500 Songs that Shaped Rock and Roll.
Reed died August 29, 1976 and was posthumously inducted into the Rock and Roll Hall of Fame in 1991.