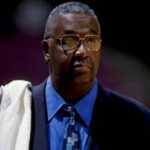 September 2, 1941, John R. Thompson, Jr., the first African American head coach to win a NCAA Division I championship, was born in Washington, D. C.
Thompson played college basketball at Providence College, where he led them to the 1963 NIT Championship and was a 1964 All-American.
At the time of his graduation, he was Providence's all-time leading scorer. Thompson played two years in the NBA for the Boston Celtics, retiring in 1966. After retiring, Thompson coached high school basketball from 1966 to 1971. In 1972, he was hired to coach Georgetown University and over the next 27 years he led them to 596 wins and 239 losses, including three NCAA Tournament Final Four appearances and the 1984 championship.
Thompson resigned the position in 1999 and that same year was inducted into the Naismith Memorial Basketball Hall of Fame. Thompson currently serves as a commentator for professional and college basketball games and is on the Board of Directors of Nike.