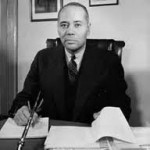 September 3, 1895 Charles Hamilton Houston, former Dean of Howard University Law School and NACCP Litigation Director, was born in Washington, D. C.
Houston graduated from Amherst College in 1915, where he was valedictorian. In 1917, he enlisted in the U. S. Army and served in Europe during World War I until 1919. He earned his Bachelor of Laws in 1922 and a doctorate in 1923 from Harvard Law School.
During his time at Harvard, Houston became the first African American editor of the Harvard Law Review. Over his career, Houston played a role in nearly every civil rights case before the Supreme Court between 1930 and 1950 and was known as "the man who killed Jim Crow". He also trained future Supreme Court Justice Thurgood Marshall. Houston died April 22, 1950 and was posthumously awarded the NACCP's Springarn Medal in 1950.
In 1958, the main building of the Howard University School of Law was dedicated as Charles Hamilton Houston Hall. In the fall of 2005, the Charles Hamilton Institute for Race and Justice at Harvard Law School opened. His biography, "Groundwork: Charles Hamilton Houston and the Struggle for Civil Rights" was published in 1983.