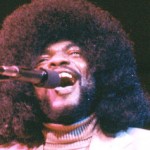 September 2, 1946 William Everett "Billy" Preston, rhythm and blues singer and musician, was born in Houston, Texas.
Preston began playing the piano at age three and by the age of ten was performing in the bands of gospel greats Mahalia Jackson, James Cleveland, and Andrae Crouch. At the age of 12, he appeared in the film "St. Louis Blues".
During the 1960s, he performed with Little Richard and Ray Charles. In 1965, Preston released his debut solo album, "The Most Exciting Organ Ever", and in 1972 he released "Outa-Space", which sold more than one million copies and won the Grammy Award for Best Pop Instrumental Performance.
Other hits from Preston include "Will It Go Round in Circles" (1972), "Space Race" (1973), "Nothing From Nothing" (1974), and "With You I'm Born Again" (1980). Preston also played keyboards for The Beatles and The Rolling Stones. Preston died June 6, 2006.