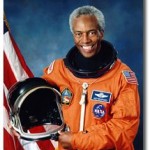 August 30, 1983 Guion "Guy" Bluford, Jr. became the first African American in space aboard the space shuttle Challenger.
Bluford was born November 22, 1942 in Philadelphia, Pennsylvania. He earned a bachelor's degree from Pennsylvania State University in 1964. Bluford then joined the U. S. Air Force and during the Vietnam War flew 144 combat missions, 65 of which were over North Vietnam. He earned numerous medals and citations for his flying, including an Air Force Commendation medal.
After his discharge from the air force, Bluford earned a master's degree in 1974 and a Ph.D. in aerospace engineering in 1978 from the Air Force Institute of Technology. He also earned an MBA from the University of Houston in 1987. Bluford became a NASA astronaut in August, 1979 and over the course of his career participated in four space shuttle flights, logging over 688 hours in space. In 1993, Bluford resigned from NASA to become Vice President and General Manager of a private engineering services company. He was inducted into the International Space Hall of Fame in 1997.