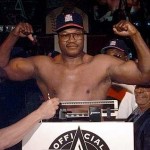 November 3, 1949 Larry Holmes, former heavyweight boxing champion, was born in Cuthbert, Georgia.
Holmes started boxing at the age of 19 and had an amateur record of 19 wins and 3 losses. He had his first professional fight on March 21, 1973 and won the heavyweight championship when he defeated Ken Norton on June 9, 1978.
Holmes successfully defended his title 20 times, second only to Joe Lewis who had 25 successful defenses, before he lost to Michael Spinks in September, 1985. After several comebacks, Holmes fought his last professional fight in 2002 at the age of 52 and retired with a record of 69 wins and 6 losses.
He was inducted into the International Boxing Hall of Fame in June, 2008 and currently lives in Easton, Pennsylvania.