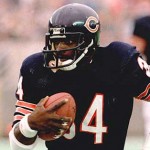 November 1, 1999 Walter Payton, hall of fame football player, died.
Payton was born July 25, 1954 in Columbia, Mississippi. He played college football at Jackson State University where he was a two-time All-American and two-time Black College Player of the Year. Payton graduated from Jackson State with a bachelor's degree in communications.
Payton was selected by the Chicago Bears in the 1975 NFL Draft. Over his 13 season professional career, Payton was a nine-time All-Pro and in 1977 was the NFL Most Valuable Player. When he retired in 1987, Payton held the league's record for most career rushing yards, touchdown carries, and many other categories.
Payton was inducted into the Pro Football Hall of Fame in 1993 and the College Football Hall of Fame in 1996.