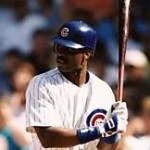 October 31, 1963 Frederick Stanley McGriff, former Major League baseball player, was born in Tampa, Florida.
McGriff was drafted by the New York Yankees in the 1981 amateur draft and reached the majors full time in 1987.
Over his 19 season professional career, McGriff was a five-time All-Star and had ten seasons with at least 30 home runs. He led the American League in home runs in 1989 and the National League in 1992.
As of 2010, McGriff had the second most career home runs of any eligible player not in the Baseball Hall of Fame.