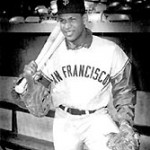 September 17, 1937 Orlando Manuel Cepeda, hall of fame baseball player, was born in Ponce, Puerto Rico.
Cepeda began playing Major League baseball in 1958 with the San Francisco Giants and in his first season was named National League Rookie of the Year. Over his 16 season career, he was selected to seven All-Star teams and was the National League Most Valuable Player in 1967.
In 1999, Cepeda was inducted to the Baseball Hall of Fame and in 2008 the San Francisco Giants added a life-size bronze statue on the fourth corner of their stadium to honor him as one of the greatest Giants of all time. Cepeda has been recognized nationally for his humanitarian efforts as an ambassador for baseball.
In 2001, he received the Ernie Banks Positive Image Award. There are a number of books written by and about Cepeda, including "High and Inside: Orlando Cepeda's Story" (1984) and "Red Bull: From Hardball to Hard Time and Back" (1998).