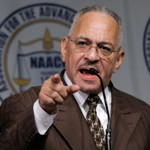 September 22, 1941 Jeremiah Alvesta Wright, Jr., former pastor of Trinity United Church of Christ, was born in Philadelphia, Pennsylvania.
In 1961, Wright left college to join the United States Marine Corps. After two years of service, he joined the U. S. Navy where he was trained as a cardiopulmonary technician. In that capacity, he was part of the medical team that cared for President Lyndon Johnson after his 1966 surgery. Wright earned a Bachelor's degree in 1968 and a Master's degree in English in 1969 from Howard University. He also earned a Master's degree from the University of Chicago Divinity School in 1975 and a Doctor of Ministry degree from the United Theological Seminary in 1990.
In 1972, Wright became pastor of Trinity United Church of Christ which at the time had 250 members. When he retired in 2008, it was the largest church, with 8,500 members, in the mostly White United Church of Christ denomination. Wright has been a professor at a number of educational institutions, including Chicago Theological Seminary and Garrett Evangelical Theological Seminary. He has served on the boards of numerous religious and civic organizations, including Virginia Union University and City Colleges of Chicago.
He has received seven honorary doctorate degrees and was named one of Ebony Magazine's top 15 preachers.