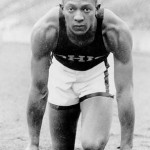 September 12, 1913 James Cleveland "Jesse" Owens, Olympic track and field athlete, was born in Oakville, Alabama.
Owens first came to national attention while in high school in Cleveland, Ohio when he equaled the world record of 9.4 seconds in the 100 yard dash and long jumped 24 feet 9 ½ inches at the 1933 National High School Championships.
Owens attended Ohio State University where he won a record eight individual NCAA championships. Despite that success, he had to live off campus and never offered a scholarship for his efforts. At the 1936 Berlin Olympic Games, Owens won Gold Medals in the 100 and 200-meter races, the 4 by 100 meter relay race, and the long jump.
While in Germany, Owens was allowed to travel with and stay in the same hotels as Whites, a right that was denied him in the United States. After a New York ticker-tape parade in his honor, Owens had to ride the freight elevator to attend his own reception at the Waldorf-Astoria Hotel. After the Olympic, there were no lucrative financial offers and Owens eventually filed for bankruptcy. In the late 1960s, he began working as a U. S. "goodwill ambassador" speaking about the importance of religion, hard work, and loyalty.
In 1970, Owens was awarded the Presidential Medal of Freedom. Owens died March 31, 1980 and in 1981 USA Track and Field created the Jesse Owens Award which is annually given to the country's top track and field athlete. In 1990, Owens was posthumously awarded the Congressional Gold Medal.
The United States Postal Service issued commemorative postage stamps in his honor in 1990 and 1998. In 2001, Ohio State University dedicated the Jesse Owens Memorial Stadium and there is a statue of Owens in Cleveland, Ohio. Owens' name is enshrined in the Ring of Genealogy at the Charles H. Wright Museum of African American History in Detroit, Michigan.