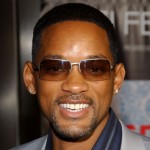 September 25, 1968 Willard Christopher "Will" Smith, rapper, actor and film producer, was born in Philadelphia, Pennsylvania.
While still in his teens, he began rapping and collaborating with Jeff Townes and "DJ Jazzy Jeff & The Fresh Prince" was born. The combination was a hip-hop hit during the 1980s and early 1990s creating such songs as "Parents Just Don't Understand" (1988) and "Summertime" (1991) and winning the first Grammy Award in the Best Rap Performance category in 1989.
From 1990 to 1996, Smith starred in the television situation comedy "The Fresh Prince of Bel-Air." Smith's film career took off with his role in "Bad Boys" (1995) which was followed by a succession of hits including "Independence Day" (1996), "Men in Black" (1997), and "Enemy of the State" (1998). In 2007, he produced and starred in "I Am Legend" which had the largest opening ever for a film released in December. Smith is the only actor in history to have eight consecutive films open at number 1 in the domestic box office and gross over $100 million.
Other films in which Smith has produced and starred in include "Hitch" (2005), "The Pursuit of Happyness" (2006), and "Hancock" (2008). He was also the producer for "Lakeview Terrace" (2008), "The Secret Life of Bees" (2008), and "Karate Kid" (2010). Smith has been nominated for four Golden Globe Awards, two Academy Awards and has won multiple Grammy Awards.