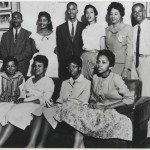 September 25, 1957 The Little Rock Nine successfully entered Central High School in Little Rock, Arkansas.
On May 17, 1954, the United States Supreme Court issued its decision in Brown v. Board of Education declaring all laws establishing segregated schools to be unconstitutional, and calling for the desegregation of all schools throughout the nation. By 1957 the NAACP had registered nine Black students to attend the previously all-White Central High. Governor Orval Faubus deployed the Arkansas National Guard to block the students from attending the school.
On September 24, President Dwight Eisenhower ordered the 101st Airborne Division of the United States Army to Little Rock to facilitate their entry and provide protection to the students. During their ordeal the Little Rock Nine were advised by journalist and activist Daisy Bates and for their efforts they received the NAACP Spingarn Medal in 1958.
On November 9, 1999, the Little Rock Nine were awarded the Congressional Gold Medal, in 2007 the United States Mint distributed a commemorative silver dollar to "recognize and pay tribute to the strength, the determination and courage displayed by African American high school students in the fall of 1957." In December, 2008 they were invited to attend the inauguration of President-elect Barack Obama. Two made for television movies have dramatized the events, the 1981 CBS movie "Crisis at Central High" and the 1993 Disney Channel movie "The Ernest Green Story."