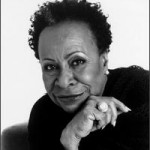 September 26, 1998 Betty Carter, jazz singer, died.
Carter was born Lillie Mae Jones on May 16, 1929 in Flint, Michigan but grew up in Detroit. She studied piano at the Detroit Conservatory and by the age of 16 was singing with Charlie Parker. In 1958, Carter released her first solo album, "Out There with Betty Carter" and in 1961 she recorded a series of duets with Ray Charles, including the R&B chart topping "Baby, It's Cold Outside".
In 1980, Carter released the double album "The Audience with Betty Carter" and was the subject of a documentary film, "But Then, She's Betty Carter". In 1988, she won the Grammy Award for Best Jazz Vocal Performance, Female for the album "Look What I Got" and in 1997 she was awarded the National Medal of Arts by President William Clinton. In 1999, Carter was posthumously inducted into the Down Beat Jazz Hall of Fame.