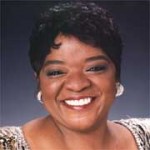 September 13, 1948 Nell Ruth Hardy (Nell Carter), singer and film, stage and television actress, was born in Birmingham, Alabama.
Carter broke into stardom with her stage performance in "Ain't Misbehavin'", for which she won the 1978 Tony Award for Best Featured Actress in a Musical. She also won a 1982 Emmy Award for Outstanding Individual Achievement for the same role in a televised version of the play.
Other Broadway credits include "Dude" and "Annie". From 1981 to 1987, Carter starred in the television situation comedy, "Gimme a Break", for which she earned Golden Globe and Emmy Award nominations. Carter died January 23, 2003.