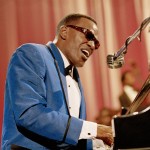 September 23, 1930 Ray Charles Robinson (Ray Charles), R&B, gospel and blues vocalist and pianist, was born in Albany, Georgia.
At the age of 5, Charles began to lose his sight and was completely blind by the age of 7. In 1943, he began to play gigs around Tallahassee and Jacksonville, Florida. In 1947, he moved to Seattle, Washington and recorded his first hit with the 1949 "Confession Blues". In 1955 his song "I Got A Woman" reached the top of Billboard's R&B chart and from there until 1959 Charles had a series of R&B chart toppers. In 1959, Charles crossed over to the pop charts with "What I Say" which was followed by "Georgia On My Mind" (1960), "Hit the Road Jack" (1961), "Unchain My Heart" (1962), and "Busted" (1963).
In 1979, "Georgia On My Mind" was proclaimed the official state song of Georgia. Charles performed at two Presidential inaugurations, President Ronald Reagan's second in 1985 and President William Clinton's first in 1993. Charles won 17 Grammy Awards during his career, including the Grammy Lifetime Achievement Award in 1987. In 1981, he was given a star on the Hollywood Walk of Fame and in 1986 he received Kennedy Center Honors. That same year, Charles was one of the first inductees into the Rock and Roll Hall of Fame.
Charles was inducted into the Rhythm & Blues Hall of Fame in 1991 and received the National Medal of Arts in 1993. In 2004, he was inducted into the Jazz Hall of Fame. Charles died on June 10, 2004. His final album "Genius Loves Company" was released two months after his death. The 2004 film "Ray" portrayed his life and career and Jamie Foxx won the 2005 Academy Award for Best Actor for his portrayal of Charles.
In 2005, the United States postal facility in Los Angeles, California was renamed the Ray Charles Post Office Building and in December, 2007 Ray Charles Plaza was opened in Albany, Georgia with a revolving, lighted bronze sculpture of Charles seated at a piano.