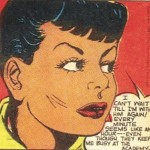 December 26, 1985 Jackie Ormes, the first African American female cartoonist, died.
Ormes was born Zelda Mavin Jackson on August 1, 1911 in Monongahela, Pennsylvania. Ormes started in journalism as a proofreader for the Pittsburgh Courier. In 1937, her one-panel comic strip "Torchy Brown in Dixie to Harlem" first appeared in the Courier. Ormes moved to Chicago, Illinois in 1942 and began writing articles and a social column for the Chicago Defender.
At the end of World War II, her one-panel cartoon "Candy" appeared in the Defender for a few months. In August, 1945, Ormes returned to the Courier with the cartoon "Patty-Jo 'n' Ginger" which ran for eleven years. In 1947, she contracted to have a Patty-Jo doll produced. It was the first African American doll to have an extensive upscale wardrobe. Today, the dolls are highly sought after collectors' items. In 1950, she developed a multi-panel comic strip "Torchy in Heartbeats" which ran until 1954.
Ormes retired from cartooning in 1956 and devoted the remainder of her life to the Southside Chicago community, including being a founding member of the board of directors of the DuSable Museum of African American History. Her biography, "Jackie Ormes: The First African American Woman Cartoonist," was published in 2008.