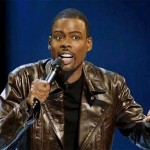 February 7, 1965 Chrisopher Julius "Chris" Rock III, comedian, actor and screenwriter, was born in Andrews, South Carolina.
Rock began doing stand-up comedy in 1985 and caught the eye of Eddie Murphy who became his mentor. Rock became a cast member of "Saturday Night Live." In 1990 and in 1991 released his first comedy album, "Born Suspect." In 1998, Rock released his Grammy Award winning comedy album, "Roll With the New."
Rock has done five HBO comedy specials, including "Big Ass Jokes" (1994), "Bigger & Blacker" (1999), and "Kill the Messenger" (2008). His television work has earned him 15 Emmy nominations and 3 Emmy Awards. Rock has appeared in a number of films, including "Dogma" (1999), "Bad Company" (2002), and "The Longest Yard" (2005). He has also served as writer and director of "Head of State" (2003), "I Think I Love My Wife" (2007), and the 2009 documentary "Good Hair."
In 2005, the comedy series "Everybody Hates Chris" premiered with Rock as producer and narrator. Rock was voted the fifth greatest stand-up comedian of all time by Comedy Central.
---