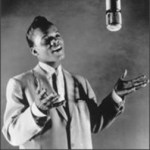 March 2, 2003 Hank Ballard, Rhythm and Blues singer and songwriter, died.
Ballard was born John Henry Kendricks on November 18, 1927 in Detroit, Michigan but raised in Bessemer, Alabama. At 15, Ballard moved back to Detroit where he began his singing career. In 1951, he formed a group which eventually became known as the Midnighters. In 1954, he wrote "Work With Me Annie" which became the groups first hit. This was followed by "Annie Had a Baby" and "Annie's Aunt Fannie," both of which were banned by the FCC from radio.
Despite the ban, both sold more than a million copies. In 1959, Ballard wrote and recorded "The Twist" and invented the dance. The next year it became a number one hit for Chubby Checker. The group had several more hits including "Let's Go, Let's Go, Let's Go" and "Finger Popping Time" before they disbanded in 1965.
In 1990, Ballard was inducted into the Rock and Roll Hall of Fame. In 1999, Hank Ballard and the Midnighters were inducted into the Vocal Group Hall of Fame.
---