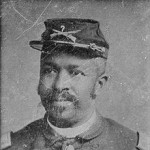 September 28, 1914 Christian Abraham Fleetwood, Medal of Honor winner, died.
Fleetwood was born July 21, 1840 in Baltimore, Maryland. He received his early education in the office of the secretary of the Maryland Colonization Society, went briefly to Liberia and Sierra Leone, and graduated in 1860 from Ashmun Institute (later Lincoln University). After the Civil War started, Fleetwood enlisted in the 4th Regiment United States Colored Infantry and was given the rank of Sergeant.
On September 29, 1864, his regiment participated in the Battle of Chaffin's Farm outside of Richmond, Virginia. When a flag bearer was wounded, Fleetwood grabbed the flag from him before it could touch the ground and continued forward under heavy fire. On April 6, 1865, Fleetwood was awarded the Medal of Honor with a citation that read "Seized the colors, after 2 color bearers had been shot down, and bore them nobly through the fight".
After the war, Fleetwood was instrumental in organizing the Colored High School Cadet Corps of the District of Columbia in 1888. He served as their instructor until 1897 and developed a tradition of military service among these young men which led some of them to enlist during World War I. Fleetwood's name is enshrined in the Ring of Genealogy at the Charles H. Wright Museum of African American History in Detroit, Michigan.