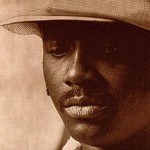 October 1, 1945 Donny Edward Hathaway, R & B singer, was born in Chicago, Illinois.
Hathaway began singing in a church choir at the age of three billed as "Donny Pitts, The Nation's Youngest Gospel Singer". He also began studying the piano as a child and in 1964 earned a fine arts scholarship to Howard University.
Hathaway left Howard in 1967 and began working as a songwriter, session musician, and producer. He recorded his first single in 1969 and released his first album, "Everything is Everything," in 1970. In 1972, Hathaway recorded an album of duets with former Howard University classmate Roberta Flack which included the track "Where is the Love," which peaked at number five on Billboard Pop Charts and won a Grammy Award for Best Pop Performance by a Duo or Group with Vocals. Hathaway and Flack were again successful with the 1978 duet "The Closer I Get To You". Other recordings by Hathaway include "The Ghetto – Pt. 1" (1970), "Giving Up" (1972), and "Someday We'll All Be Free" (1973).
Despite his success, Hathaway was diagnosed as suffering from paranoid schizophrenia and on January 13, 1979 his body was found on the sidewalk in front of the Essex House in New York City, apparently having committed suicide.