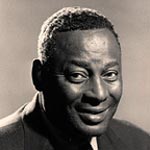 December 16, 1933 Charles LeRoy Blockson, black studies scholar and author, was born in Norristown, Pennsylvania.
As a young boy, Blockson was told by a white teacher that black people had made no contribution to history. Blockson earned his Bachelor of Arts degree from Pennsylvania State University in 1956. After serving in the United States Army from 1957 to 1958, he taught local and multicultural history as a human relations advisor for the Norristown Area School District.
Blockson traveled the world and amassed one of the world's largest collections of black history material, including African, African American, and African Caribbean publications and other material dating back to the sixteenth century. In 1984, Blockson donated the collection to Temple University. He is considered one of the country's leading experts on the Underground Railroad and in 1987 published "The Underground Railroad: First Person Narratives of Escapes to Freedom in the North."
Blockson is the recipient of the Lifetime Achievement Award from the Before Columbus Foundation and has received multiple honorary doctorates. Blockson's memoir, "Damn Rare: The Memoirs of an African American Bibliophile," was published in 1988.