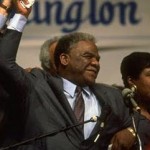 April 15, 1922 Harold Lee Washington, the first and only African American Mayor of Chicago, was born in Chicago, Illinois and grew up in Bronzeville, the epicenter of black culture in Chicago.
After service in the United States Army Air Force from 1942 to 1945, Washington earned a Bachelor of Arts degree from Roosevelt College in 1949 and a law degree from Northwestern University School of Law in 1952. From 1951 to 1965, Washington worked for former Olympian Ralph Metcalfe as part of the Richard Daley political machine. From 1965 to 1980, Washington served in the Illinois legislature and from 1981 to 1983 he was a member of the United States House of Representatives.
In 1983, Washington was elected Mayor of Chicago where he served until his death on November 25, 1987. After his death a number of city facilities and institutions were named or renamed in his honor, including the Harold Washington Library Center, Harold Washington College, and Harold Washington Park. Books about Washington include "Harold Washington: A Political Biography" (1983) and "Fire on the Prairie: Chicago's Harold Washington and the Politics of Race" (1992).
---