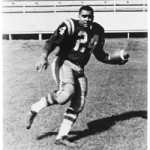 October 20, 1951 The Johnny Bright Incident occurred when African American football player, Johnny Bright, was violently assaulted by white football player, Wilbanks Smith, during a college football game between Drake University and Oklahoma State University.
In 1951, Bright was a pre-season Heisman Trophy candidate and led the nation in total offense. The game marked the first time that an African American athlete with a national profile had played against Oklahoma State. During the first seven minutes of the game, Bright was knocked unconscious three times by blows from Smith. The final blow broke Bright's jaw and he was eventually forced to leave the game.
A six sequence photograph of the incident was captured by the Des Moines Register newspaper and it showed that the final blow was delivered well after Bright had handed the football off. That photographic sequence won the 1952 Pulitzer Prize for Photography and later made the cover of Life Magazine. After the game, Oklahoma State and the conference officials refused to take any disciplinary action against Smith.
Bright went on to graduate from Drake in 1952 and enjoy a 12-year professional career in the Canadian Football League, retiring in 1964 as the CFL's all-time leading rusher. Bright was inducted into the Canadian Football Hall of Fame in 1970 and died December 14, 1983. In 2005, Oklahoma State University formally apologized to Drake University for the incident.