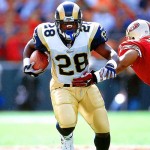 February 26, 1973 Marshall William Faulk, hall of fame football player, was born in New Orleans, Louisiana.
Faulk played collegiate football at San Diego State University and was a three-time First-team All-American. He skipped his senior year and was selected by the Indianapolis Colts in the 1994 NFL Draft. That year he was the NFL Offensive Rookie of the Year. Over his 13 season professional career, Faulk was a seven-time Pro Bowl selection, three-time NFL Offensive Player of the Year, and in 2001 won the Bert Bell Award as the Professional Football Player of the Year.
Marshall is the only player to have more than 12,000 yards rushing and 6,000 yards receiving over his career. He also holds the NFL record for most games with over 200 yards rushing with 14. Faulk's number 28 jersey was retired by the St. Louis Rams in 2007 and he was inducted into the Pro Football Hall of Fame in 2011. In 1999, Faulk established the Marshall Faulk Foundation "to provide assistance to inner-city youth organizations and underprivileged children."
Since inception, the foundation has donated more than $500,000. Faulk is currently an analyst for various NFL television programs.
---