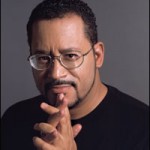 October 23, 1958 Michael Eric Dyson, academic, author, and minister, was born in Detroit, Michigan.
Dyson received his Bachelor of Arts degree magna cum laude from Carson-Newman College in 1982 and his masters and Ph.D from Princeton University in 1991 and 1993, respectively. Dyson is a longtime professor, lecturer and author who address' issues of race and culture.
He has authored a number of books, including "Making Malcolm: The Myth and Meaning of Malcolm X" (1995), "I May Not Get There With You: The True Martin Luther King, Jr." (2000), and "Can You Hear Me Now? The Inspiration, Wisdom, and Insight of Michael Eric Dyson" (2009).
Since 2007, Dyson has been University Professor of Sociology at Georgetown University, teaching courses in Theololgy, English and African American Studies.