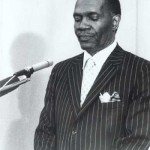 September 20, 1994 Abioseh Davidson Nicol, academic, diplomat and writer, died.
Nicol was born September 14, 1924 in Freetown, Sierra Leone. He graduated from Christ's College, Cambridge University in 1946 and earned his Ph. D. in 1958. From 1960 to 1966, Nicol was the first native principal of Fourah Bay College in Freetown. He served as chairman and Vice Chancellor at the University of Sierra Leone from 1966 to 1969.
Nicol left academia in 1969 to become Permanent Representative of Sierra Leone to the United Nations, where he served until 1971. From 1972 to 1982, he served as Under-Secretary General of the United Nations. Nicol returned to academia and served as a visiting professor of international studies at the University of California from 1987 to 1988 and University of South Carolina from 1990 to his retirement in 1991.
Nicol was a published author of short stories, poetry, music, academic literature, and a biography of Africanus Horton, an early Sierra Leonean author and one of the founders of African Nationalism. His last published work was "Creative Women" in 1982.