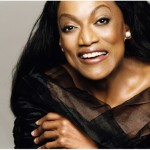 September 15, 1945 Jessye Mae Norman, opera singer, was born in Augusta, Georgia. At the age of nine, Norman heard opera for the first time and was immediately an opera fan.
She credits Marian Anderson and Leontyne Price as inspiring figures in her career. In 1966, Norman won the National Society of Arts and Letters singing competition. In 1967, she earned her Batchelor's degree in Music from Howard University and in 1968 earned a Masters degree from the University of Michigan. After graduation, Norman moved to Europe to establish herself. In 1969, she won the ARD International Music Competition in Munich, Germany and landed a three-year contract with the Deutsche Opera Berlin.
Norman made her United States opera debut in 1982 with the Opera Company of Philadelphia and by the mid-1980s was one of the most popular and highly regarded dramatic soprano singers in the world. In January, 1985, she sang at the inauguration of President Ronald Reagan. She also performed in 1997 at the second inauguration of President William Clinton. After more than thirty years on stage, Norman no longer performs ensemble opera, concentrating on recitals and concerts. She is also on the Board of Directors of a number of organizations including Carnegie Hall, Dance Theater of Harlem, the Elton John AIDS Foundation and the LUPUS Foundation.
Norman has won four Grammy Awards, including the Grammy Lifetime Achievement Award in 2006 and has received honorary doctorate degrees from thirty colleges, universities and conservatories. In 2009, Norman was awarded the National Medal of Arts by President Barack Obama.