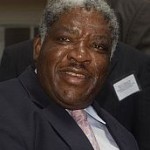 September 3, 1948 Levy Patrick Mwanawasa, the third President of Zambia, was born in Mufulira, North Rhodesia.
After earning his law degree from the University of Zambia, he worked in private law firms. In 1991, Mwanawasa was elected to Parliament and from that year to 1994 served as Vice President of Zambia.
In 2001, Mwanawasa was elected President where he served until his death on August 19, 2008. He is credited with initiating a campaign against corruption, lowering inflation, and increasing the economic growth of the country.