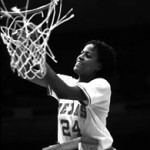 June 4, 1967 Clarissa Davis, hall of fame basketball player, was born in San Antonio, Texas.
Davis played college basketball at the University of Texas where she was a two-time All-American and National Player of the Year in 1987 and 1989. In 1986, she led Texas to the NCAA championship.
After college, Davis played professional basketball in Europe and won a Bronze medal as a member of the United States women's basketball team at the 1992 Barcelona Olympic Games. In 1999, she was selected by the Phoenix Mercury in the WNBA Draft but played only one season before retiring.
From 1999 to 2002, Davis worked for the NBA San Antonio Spurs and from 2002 to 2006 she served as Chief Operating Officer for the WNBA San Antonio Silver Stars. Davis was inducted into the Women's Basketball Hall of Fame in 2006 and is currently an assistant coach at Texas. She also founded the TEAMXPRESS Foundation to provide mentoring to girls in San Antonio.