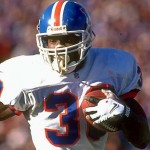 October 28, 1972 Terrell Lamar Davis, former football player, was born in San Diego, California.
Davis initially played college football at Long Beach State University and when they ended their football program, he transferred to the University of Georgia. Davis graduated from Georgia with a Bachelor of Science degree in Consumer Economics and was selected by the Denver Broncos in the 1995 NFL Draft.
Over his seven season professional career, Davis was a 3-time Pro Bowl selection, 2-time NFL Offensive Player of the Year, and 2-time Super Bowl champion. In 1998, Davis led the league in rushing and was named the NFL Most Valuable Player.
Davis retired before the 2002 season and was inducted into the Denver Bronco Ring of Fame in 2007. He was a semifinalist for the 2007 Pro Football Hall of Fame. Davis published his autobiography, "TD: Dreams in Motion," in 1980.