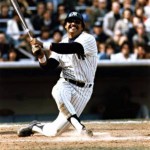 May 18, 1946 Reginald Martinez "Reggie" Jackson, hall of fame baseball player known as "Mr. October," was born in Wyncote, Pennsylvania.
Jackson excelled in high school baseball and football and went to Arizona State University on a football scholarship. In the 1966 Major League Baseball Draft, Jackson was selected by the Kansas City Athletics and he made his major league debut in 1967. Over his 21 season professional career, Jackson was a 14-time All Star, 2-time Silver Slugger Award winner, 5-time World Series Champion, and in 1973 was the American League Most Valuable Player.
Jackson retired as a player in 1987 and currently serves as a special advisor to the New York Yankees. Also during his career and after, Jackson has consistently spoken out about race relations and lobbied baseball teams to hire black former players as managers, coaches, scouts, and front office executives. Jackson was inducted into the Baseball Hall of Fame in 1993.
---