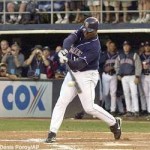 May 9, 1960 Anthony Keith "Tony" Gwynn, hall of fame baseball player, was born in Los Angeles, California.
After starring roles in baseball and basketball at San Diego State University, Gwynn was selected by the San Diego Padres in the 1981 Major League Baseball Draft. Gwynn made his major league debut in 1982 and played his entire 20-year career with the Padres. Over that career, he was a 15-time All-Star, 5-time Gold Glove winner, 7-time Silver Slugger winner, and 8-time National League batting champion.
Gwynn also won the Branch Rickey Award (1995) for exceptional community service, the Lou Gehrig Memorial Award (1998) for best exemplifying his character and integrity both on and off the field, and the Roberto Clemente Award (1999) for best exemplifying the game of baseball, sportsmanship, community involvement and his contribution to his team. Gwynn retired in 2001 with a lifetime batting average of .338, the highest among players whose careers began after World War II, and was inducted into the Baseball Hall of Fame in 2007.
The address for the Padres' baseball stadium Is 19 Tony Gwynn Drive and a 10-foot statue of Gwynn was unveiled outside of the stadium in 2007. Gwynn in currently head baseball coach at San Diego State University where the baseball stadium is named Tony Gwynn Stadium.