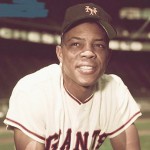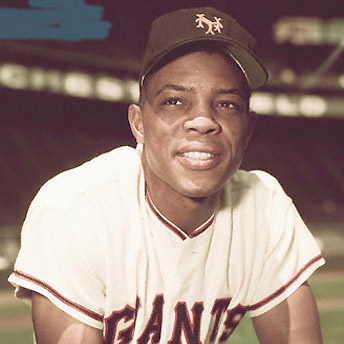 May 6, 1931 William Howard "Willie" Mays, hall of fame baseball player and "The Say Hey Kid," was born in Westfield, Alabama.
Mays began his professional baseball career in 1947 in the Negro Baseball Leagues. In 1950, Mays was signed by the New York Giants and he began his major league career in 1951. Mays missed part of the 1952 season and all of the 1953 season due to service in the United States Army.
Over his 21 year major league career, Mays was Rookie of the Year in 1951, a 20-time All Star, 12-time Golden Glove Award winner, 2-time National League Most Valuable Player, and 1971 winner of the Roberto Clemente Award, given to the player that "best exemplifies the game of baseball, sportsmanship, community involvement and the individual's contribution to his team." Mays retired after the 1973 season with a lifetime batting average of .302 and 660 career home runs.
He was inducted into the Baseball Hall of Fame in 1979. Since 1986, he has served as special assistant to the president of the San Francisco Giants. In 2005 he was given the Bobby Bragan Youth Foundation Lifetime Achievement Award in recognition of his accomplishments on and off the field. Annually, May 24 is Willie Mays Day in San Francisco. Mays published his autobiography, "Say Hey: The Autobiography of Willie Mays," in 1988.