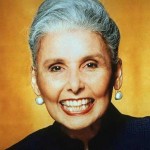 May 9, 2010 Lena Mary Calhoun Horne, singer, actress, dancer and Civil Rights activist, died.
Horne was born June 30, 1917 in Brooklyn, New York. At the age of 16, she joined the chorus line at the Cotton Club and a few years later joined the Noble Sissle Orchestra. In 1943, she became the first black performer to sign a long term contract with a major Hollywood studio. Horne made her MGM debut in 1942 in "Panama Hattie" and performed the title song "Stormy Weather." She appeared in a number of MGM musicals but was never featured in a leading role because of her race and the fact that films featuring her had to be re-edited for showings in states where theaters would not show films with black performers.
During the 1950s, Horne was blacklisted because of her political views and she left Hollywood to become one of the premier nightclub performers. She headlined at clubs and hotels throughout the United States, Canada, and Europe. In 1957, her album "Lena Horne at the Waldorf-Astoria" became the biggest selling record by a female artist in the history of the RCA-Victor label. In 1958, Horne was nominated for a Tony Award for Best Actress in a Musical for her role in "Jamaica." In 1969, she starred in her own television special, "Monsanto Night Presents Lena Horne." In 1981, Horne debuted her one-woman show "Lena Horne: The Lady and Her Music" which still holds the record for the longest running solo performance in Broadway history. For her performance, she received a special Tony Award.
Horne was always involved with the Civil Rights Movement. During World War II, she refused to perform for segregated audiences or for groups in which German prisoners of war were seated in front of African American servicemen. She also spoke and performed at the 1965 March on Washington for Jobs and Freedom. Over her career, Horne won four Grammy Awards, including the 1989 Grammy Lifetime Achievement Award. She was inducted into the International Civil Rights Walk of Fame in 2006. Horne published her autobiography, "Lena," in 1965. Other biographies include "In Person, Lena Horne" (1950) and "Lena: A Personal and Professional Biography of Lena Horne" (1984).
---