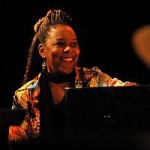 September 30, 1954 Patrice Louise Rushen, R&B singer, songwriter, composer and pianist, was born in Los Angeles, California.
At a young age, Rushen was considered a child prodigy. At the age of 18, she won at competition at the 1972 Monterey Jazz Festival. Rushin earned a bachelor's degree in music education and piano performance from the University of Southern California in 1976. She has many groundbreaking achievements, including being the first woman to serve as head composer/musical director for the Grammy Awards and the Emmy Awards and the first woman to serve as musical director for the NAACP Image Awards, which she did for 12 consecutive years.
In addition she is the only woman to be musical director/composer for the People's Choice Awards. A classically trained pianist, Rushen has also achieved success as a singer with a number of top ten R&B hits including "Never Gonna Give You Up" (1981), "Forget Me Nots" (1982), and "Watch Out" (1988). In 2008, Rushen accepted a professorship at the prestigious Berklee College of Music in Boston.