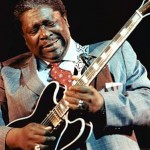 September 16, 1925 Riley "B. B." King, blues guitarist and singer/songwriter, was born in Itta Bena, Mississippi.
In 1948, King moved to Memphis and worked as a singer and disc jockey at the local R&B radio station. King began recording in 1949 and by the 1950s had become one of the most important names in R & B with hits that included "Three O'Clock Blues" (1951), "Every Day I Have the Blues" (1955), and "Sweet Little Angel" (1956).
King continued to record into the 1980s with songs like "The Thrill is Gone" (1970) and "To Know You is to Love You" (1973). Although he is recording less, King continues to maintain an active career. Over his 50 plus year, King has played more than 15,000 performances and won 15 Grammy Awards, including the Grammy Lifetime Achievement Award in 1987.
In 1980, King was inducted into the Blues Hall of Fame and in 1987 he was one of the inaugural inductees to the Rock and Roll Hall of Fame. In 1990, King was awarded the National Medal of Arts, in 1995 the Kennedy Center Honors, and in 2006 President George W. Bush presented him with the Presidential Medal of Freedom.