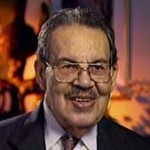 April 20, 2010 Warren Q. Marr II, co-founder of the Amistad Research Center, died.
Marr was born July 31, 1916 in Pittsburgh, Pennsylvania. He studied journalism and printing at Wilberforce University. After graduating, Marr worked for The Plaindealer in Kansas City, Kansas from 1939 to 1942, rising to the position of assistant editor.
In 1968, Marr joined the staff of the NAACP and from 1974 to 1980 served as editor of the Crisis Magazine. In 1966, Marr co-founded the Amistad Research Center as a repository for African American papers and other artifacts. The center currently houses more than 10 million items.
In 1991, Marr helped found Amistad Affiliates, a nonprofit organization dedicated to the creation of a replica of the historic schooner La Amistad as a floating museum and educational center. After years of construction, the ship has sailed to ports around the world promoting peace and goodwill.