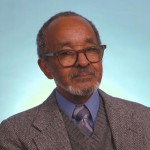 October 25, 1925 Emmett W. Chappelle, scientist and researcher, was born in Phoenix, Arizona.
Chappelle earned a Bachelor of Science Degree in Biology from the University of California in 1950 and a master's degree from the University of Washington in 1954. From 1950 to 1953, he served as a biochemistry instructor at Meharry Medical College and from 1955 to 1959 he was a Research Associate at Stanford University.
In 1958, Chappelle joined the Research Institute for Advanced Studies where he discovered that one celled plants could convert carbon dioxide to oxygen. This discovery helped to create a safe food supply for astronauts. In 1966, he joined the National Aeronautics and Space Administration where he worked until his retirement in 2001.
During that time he discovered a method for instantly detecting bacteria in water, which led to improved diagnosis of urinary tract infections and he proved that the number of bacteria in semen could be measured by the amount of light given off by that bacteria. Chappelle received 14 U. S. patents during his career.